NEWS | 1st January 2023
𝐂𝐞𝐫𝐯𝐢𝐜𝐚𝐥 𝐂𝐚𝐧𝐜𝐞𝐫 𝐀𝐰𝐚𝐫𝐞𝐧𝐞𝐬𝐬 𝐌𝐨𝐧𝐭𝐡 -( 𝐉𝐚𝐧𝐮𝐚𝐫𝐲- 𝐅𝐞𝐛𝐫𝐮𝐚𝐫𝐲𝟐𝟎𝟐𝟑)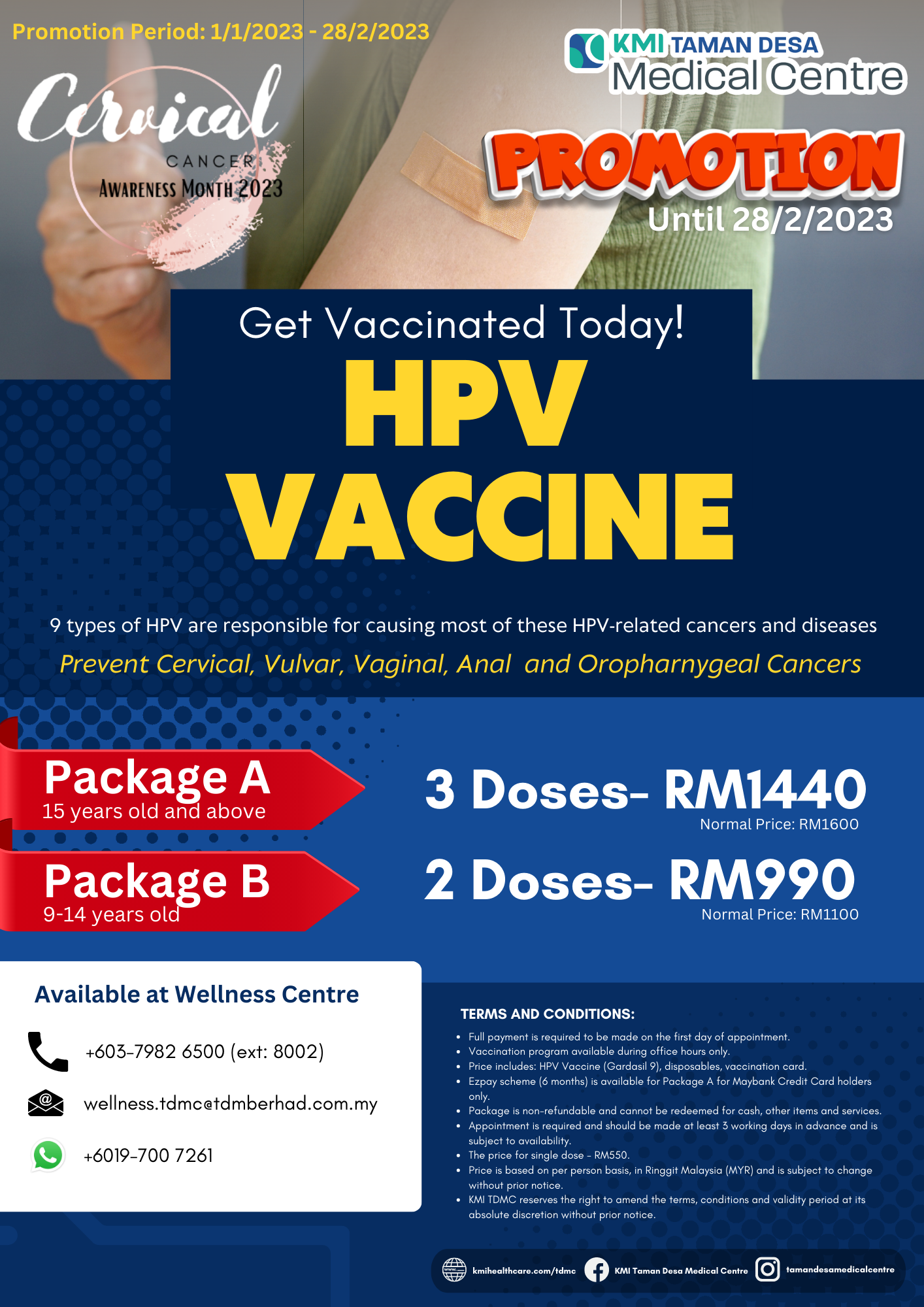 [𝐇𝐏𝐕 𝐕𝐀𝐂𝐂𝐈𝐍𝐀𝐓𝐈𝐎𝐍]
In general, HPV is thought to be responsible for more than 90% of anal and cervical cancers, about 70% of vaginal and vulvar cancers, and 60% of penile cancers (CDC, gov).
According to National Cancer Institute in the United States, in a large study of more than 1.5 millions sample size in 2020, confirms that HPV vaccines are able to prevent cervical cancer by nearly 𝟵𝟬% among girls below 17 years old.
HPV vaccination is administered as:
𝟮-𝗱𝗼𝘀𝗲𝘀 𝘀𝗲𝗿𝗶𝗲𝘀 𝗳𝗼𝗿 𝟵 𝘁𝗼 𝟭𝟰 𝘆𝗲𝗮𝗿𝘀 𝗼𝗹𝗱 (𝟬, 𝟲-𝟭𝟮 𝗺𝗼𝗻𝘁𝗵𝘀) ;
𝟯-𝗱𝗼𝘀𝗲𝘀 𝘀𝗲𝗿𝗶𝗲𝘀 𝗳𝗼𝗿 𝟭𝟱 𝘁𝗼 𝟰𝟱 𝘆𝗲𝗮𝗿𝘀 𝗼𝗹𝗱 𝗮𝗻𝗱 𝗮𝗯𝗼𝘃𝗲 (𝟬, 𝟮 ,𝟲 𝗺𝗼𝗻𝘁𝗵𝘀).
In conjunction with Cervical Cancer Awareness Month, KMI Taman Desa Medical Centre is pleased to inform that packages' prices for the two type of dose series at 𝐑𝐌𝟏𝟒𝟒𝟎 and 𝐑𝐌𝟗𝟗𝟎 respectively. Special rate will be implemented starts from 1/1/2023- 28/2/2023. Advance appointment is needed to ensure stock availability.
For further information, kindly whatsapp us at the following number:
wa.me/60197002948?text=hpvvaccine
wa.me/60197007261?text=hpvvaccine
NOTE: In view of stock out problem due to delay shipment informed by distributor on 10/1/2023, the promotion has been extended until 28/2/2023.