Admission
A. FROM SPECIALIST CLINIC / A&E
Admission is determined by the attending doctor.
The doctor will complete the "Application Form for Admission" or "Request for Admission Form" (Green Form).
Clinic staff will ensure the patient's insurance card is valid for admission and other procedures; the patient is covered by a GL (guarantee letter issued by his/her employer); or financial arrangements are made (deposit is paid or credit card is accepted).
Admission Counter team will confirm room booking status.
The doctor will complete the "Pre-Admission Insurance form" which will be signed by both the doctor and patient.
NOTE: While waiting for admission process to be completed, the patient can wait in the clinic, in the lobby or at home (if it is not an emergency case). Room for patient will be allocated accordingly.
B. AT CUSTOMER SERVICE COUNTER (Admission Counter)
Application in process (Admission)

Customer Service team will fax "Pre-Admission Form" to the patient's insurance company.


Customer Service team will determine validity of GL / Initial GL

Upon approval (insurance cover/GL) clinic team will usher patient to Customer Service Counter for further procedures.
Customer Service team will inform patient or clinic staff if insurance provider has declined to provide cover or GL is not accepted.)


Patient / guardian will sign Admission form and other relevant documents.

Customer Service team will produce "Checklist for Admission", relevant KMC pamphlets and feedback form to patient.
Admission Kit (for VIP room patients only) will be given to patient in the ward during nurse's briefing.

C. APPLICATION IN PROCESS (Day Care Procedure)
Doctor will complete Insurance form which will be faxed to the insurance provider.
Upon receipt of insurance approval or GL, Customer Service team will usher patient to Day Care together with the relevant documents.
NOTE: Patients who are without accompanying family members or a guardian can request for the assistance of clinic staff.
Discharge
A. DISCHARGE TIME:
Standard discharge time is at 12.00 p.m. Doctor will write your discharge notes in the morning ward rounds; however, depending on cases or your health, doctor will also approve patient for discharge at other times.
For any discharge after 4.00 p.m., a half day room rates will be charged.
For discharge after 6.00 p.m. a full day room rate applies.
All patients, especially those corporate patients, i.e. patients with GL from company or insurance, please allow some time which averagely 1 – 3 hours for the discharge procedures to be completed.
All patients are advised to wait in the room until you are called to sign for the bills at Inpatient Billing Counter at Ground Floor.

B. MEDICAL SUPPLIES:
Get your medication from the Pharmacy Counter after the final bill is settled
C. MEDICAL CERTIFICATE (MC) / APPOINTMENT CARD:
The MC, signed by the attending doctor, will be given to the patient in the ward. The ward nurse will give to you an appointment card if you are required to come back for any further treatment/examination.
Deposit
All admissions require a deposit, the amount to be decided when you are registering for admission.

Kindly contact Customer Service or Admissions staff to top up your deposit and be prepared to pay any outstanding amount upon discharge.

In order to help you manage your finances, our estimated deposit amount will be as follows:

| | |
| --- | --- |
| ADMISSION DETAILS | AMOUNT (RM) |
| DAYCARE - PROCEDURE / SURGERY | 1,000 / 2,000 |
| MEDICAL / PEDIATRIC | 2,500 |
| NORMAL DELIVERY / CEASERIAN DELIVERY | 3,000 / 5,000 |
| MINOR SURGERY / MAJOR SURGERY | 3,000 / 5,000 |
| ICU / HDU | 5,000 |
| ANGIOGRAM / ANGIOPLASTY | 5,000 / 15,000 |
| GL PENDING & CO PAYMENT | 500 |
In the event that your actual expenses are less than your deposit, you will receive a refund. However, you would need to top up the deposit should it be depleted during your stay in our hospital.

We regret to inform you that personal cheques are NOT accepted. However, we accept all the following credit cards and debit cards.
Terms of Payment
We accept Cash, Panel Guarantee Letter, Debit and Credit Card. We regret to inform you that personal cheques are NOT accepted.
However, we accept all the following credit cards and debit cards.

ROOM & WARD
All rooms are Single Rooms @ RM 150.00 per night (Promotion price - until further notice). Published rates is RM 180.00 per night.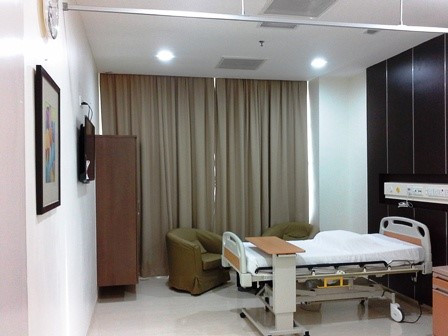 | ROOM | RATES (RM) |
| --- | --- |
| SINGLE STANDARD ROOM | 150 |
| ICU | 200 |
| HDU | 150 |
| NURSERY | 50 |
| LABOUR ROOM | 150 |
| DAY CARE | 50 |
Visiting Hours
Ward Visiting Hours
Visitors are welcome but it is our responsibility to ensure that patients receive maximum rest during their stay and treatment at our hospital.
Visitors with small children are strongly reminded to keep their children not to disturb the privacy of other patients.
Visitors must observe the following visiting hours:
Afternoon : 12.00pm – 2.00pm
Evening : 6.00pm – 9.00pm